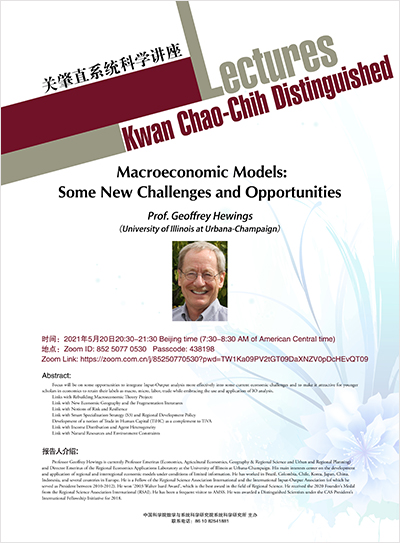 【摘要】Focus will be on some opportunities to integrate Input-Output analysis more effectively into some current economic challenges and to make it attractive for younger scholars in economics to retain their labels as macro, micro, labor, trade while embracing the use and application of IO analysis.
Links with Rebuilding Macroeconomic Theory Project:
Link with New Economic Geography and the Fragmentation literatures
Link with Notions of Risk and Resilience
Link with Smart Specialization Strategy (S3) and Regional Development Policy
Development of a notion of Trade in Human Capital (TiHC) as a complement to TiVA
Link with Income Distribution and Agent Heterogeneity
【报告人简介】Professor Geoffrey Hewings is currently Professor Emeritus (Economics, Agricultural Economics, Geography & Regional Science and Urban and Regional Planning) and Director Emeritus of the Regional Economics Applications Laboratory at the University of Illinois at Urbana-Champaign. His main interests center on the development and application of regional and interregional economic models under conditions of limited information. He has worked in Brazil, Colombia, Chile, Korea, Japan, China, Indonesia, and several countries in Europe. He is a Fellow of the Regional Science Association International and the International Input-Output Association (of which he served as President between 2010-2012). He won'2003 Walter Isard Award', which is the best award in the field of Regional Science. He received the 2020 Founder's Medal from the Regional Science Association International (RSAI). He has been a frequent visitor to AMSS. He was awarded a Distinguished Scientists under the CAS President's International Fellowship Initiative for 2018.
Date: 2021-05-20 (Thursday)
Time: 20:30-21:30 Beijing time (7:30-8:30 AM of American Central time)
Zoom ID: 852 5077 0530 Passcode: 438198
Zoom Link: https://zoom.com.cn/j/85250770530?pwd=TW1Ka09PV2tGT09DaXNZV0pDcHEvQT09